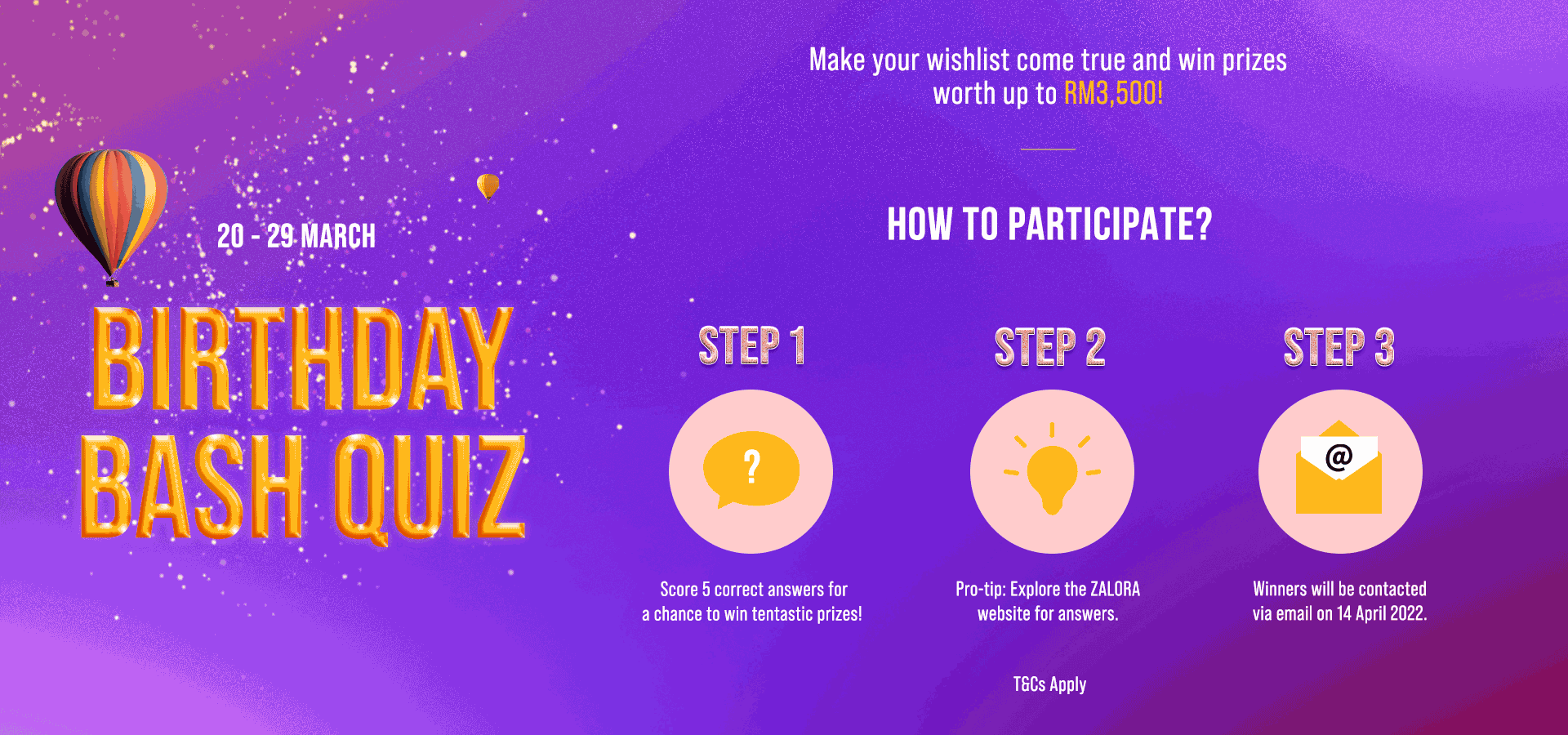 How to Participate:
1. To participate, users are required to have a registered Zalora account to play the quiz.
2. Answer 5 quiz questions correctly to stand a chance to win Zalora Gift Cards or brands/partners sponsored prizes.
3. 10x lucky winners will be selected.
4. Winner announcement will announced on 14 April 2022 via zalora.com.my/birthday-bash-quiz
5. Winner will be contacted via email. Prize will be fulfilled within 30 days of the winner's email reply.
6. Winners must acknowledge receipt within 7 days or new winners will be selected.
Prize List:
1. Zalora Gift Card RM350 for each winner. 10 lucky winners will be selected; or
2. 1 winner for Casio G Shock; or
3. 10 winners for Pandora RM50 Gift Card
The following terms and conditions apply:
1. ZALORA Tentastic Birthday Sale "Birthday Bash Quiz" starts from 20 March - 29 March 2022.
2. All submissions made after the campaign contest period will be automatically disqualified.
3. Only submissions made during the contest period will be considered for winner selection.
4. Each submission will be considered as one entry for the contest.
5. Each participant can only win one prize throughout the ZALORA Tentastic Birthday Sale Contest Period.
6. All participants would need to have a registered ZALORA account to enter.
7. Participants would need to ensure that they check-in with the same email address registered to their ZALORA account. Any typo will not be accepted.
8. Participants must be 16 years old and above in order to be eligible for the prize
9. The winner of the contest also consents to cooperate and participate in any publicity activities that may be organized by ZALORA.
10. All information published and related to the contest (including text, graphics, symbols, icons, software, and trademark) are protected by copyright and trademark and remain the sole property of ZALORA.
11. ZALORA reserves the right to change/temporarily discontinue the contest without prior notice.
12. ZALORA reserves the right to disqualify any participants who violate the rules and regulations of the contest.
13. ZALORA's decision on all matters relating to the contest, including winner selection, will be final and binding. No discussions, appeals, enquiries, or challenges will be entertained.
14. ZALORA reserves the right to vary these terms and conditions without prior notice, or withdraw/discontinue the contest at any time without notice or liability to any party.
15. In the event of inconsistency between these terms and conditions and any marketing or promotional materials relating to the contest, these terms and conditions shall prevail.
Winners Announcement and Notification:
1. The winner will be announced on14 April 2022
2. ZALORA will contact the winner via the email linked to their ZALORA account. The gift card unique codes will be sent to the winner by 14 April 2022.