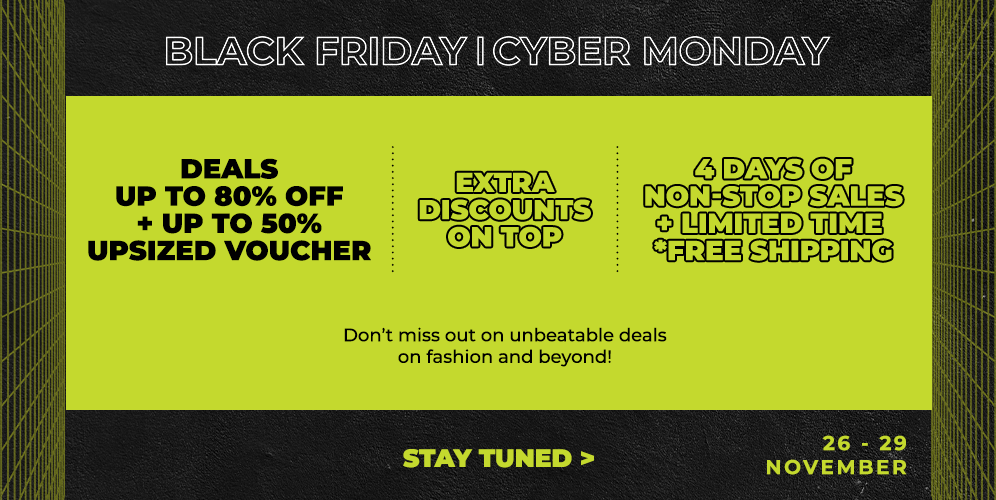 Black Friday Sales Singapore
Looking to shop for Black Friday in Singapore this 2023? This November, ZALORA Singapore is the place to do it! These days, it's all about being tech savvy and privy to the events online that are going to get you the best discounts, deals, promotions and sales for all your fashion, household, essential goods and lifestyle needs. Get exclusive deals and discounts only at ZALORA during one of the hottest sale events online this year During November! Impossibly low prices are now absolutely possible with amazing Black Friday deals in Singapore, so start shopping for Christmas presents, Thanksgiving presents and get the latest style essentials and beauty products, electronics and appliances at a steal! With an extensive selection of over 500 international and local brands for you to shop from, you'll definitely enjoy the crazy discounts and amazing deals that are going on for this very special sale event online this November 2023! Black Friday originated in the US, and was tightly related to the fact that shopping season had begun for Christmas during this period of time. During Black Friday, it was often seen that fashion brands, electronic companies, and most retailers would carry out extremely large sales and discounts, and this resulted in a huge mass of people standing guard to get in line just for a chance to pick up some items at amazing prices. This is where you traditionally see people lining up outside stores overnight, and storming the doors as soon as they open in most Hollywood movies. Remember the scene where Phoebe, Monica and Rachel from Friends went shopping on Black Friday? Yes, that's exactly how it was back then! People fighting over pieces of clothing, flatscreen TVs, and PS5 or Xbox consoles are always seen during Black Friday, and that's where you get to witness it on video on social media platforms like Youtube, Instagram, Facebook or even TikTok! Though first practiced in the US, many countries followed suit and started their own Black Friday tradition, following in the footsteps of America were countries like Canada, United Kingdom, Mexico, Romania, India, Europe and many other countries followed along - eventually the same applied all across the world, including Singapore. Nowadays, it's not as crazy as that since we have online shopping platforms. However, the amazing deals did not waver, most online retailers and e-commerce brands you know will likely carry out sales for all sorts of things on Black Friday and ZALORA Singapore is no different! The culture of Black Friday shopping in Singapore is extremely large, it often overtakes other sales periods throughout the year. Singaporeans and Black Friday are synonymous, and that's why you can count on ZALORA to offer you all the best deals of the season!
Black Friday Online Shopping and Fashion Store
Find the most amazing style must haves at all time low prices and enjoy great savings with the crazy Black Friday fashion deals going on at ZALORA this Nov 27! Try out the newest skincare products or finally strike off another item off your fashion wish list this weekend, because you know you'll be getting them at a steal! Enjoy insane discounts as you hunt and find great style bargains that will instantly add new life to your wardrobe! Christmas and the new year is coming, and its time for parties and celebrations, so hurry and get those amazing party dresses, cocktail dresses , shoes and accessories and start planning your outfit for having a good time in the upcoming festive season! We bet you didn't know this, but Black Friday was first coined not as a way for people to buy fashion and accessory items but for electronics and what consumers would require for their home. But just as how times have changed, the difference between Black Friday and Cyber Monday are now minimal and barely marginal. Often, retailers and e-commerce brands are likely to merge the sales together, while carrying different campaign names throughout with different deals for each period.
With this, we hope many of your questions about Black Friday and Cyber Monday have been answered - like "When is Black Friday?", "When is Cyber Monday?", "What is Black Friday?", "What is Cyber Monday?", "Where To Shop Black Friday Sales?", "Where To Get Cashback Deals For Black Friday?", and so on! Now, if you're headed into stores, be careful and always take precaution during this period of time. Always bring some sanitiser, face masks and wet wipes with you, and if you don't have any, you can always pick some up on ZALORA Singapore! And just to recap - Black Friday and Cyber-Monday is happening on November (the following Monday); ZALORA Singapore is your one-stop go-to place for all things electronics, household goods, fashion, accessories and sportswear; and ZALORA Singapore is also where you'll get the best cashback deals of the season this 2023!
Fashion, Electronics, Household Products and Health Essentials
You can get all your basic necessities at ZALORA Singapore too this year, with the inclusion of categories like Lifestyle, Beauty, Luxury and Zmart, you can get all your essential items easily. Whether you're looking for a designer bag, accessories, black face masks, disinfectants, sanitizers, headphones, cameras, furniture, home décor or even pregnancy must-haves, ZALORA Singapore offers you the widest and best range at your convenience! This year, we even launched the cashback feature that will allow you to earn a fraction of your money back when you spend, who doesn't love getting money, right? Black Friday sales in Singapore is a long upheld tradition that should not be broken, and now's the best time to get all your wish-listed items at a great bargain! Brands like Guess, Birkenstock, Fila, Kate Spade, Dr Martens, Samsonite, Nike, Sixty Eight(6ixty8ight), Havaianas, Patagonia, The North Face, Topshop, Cath Kidston, Dorothy Perkins, G2000, Tommy Hilfiger, lacoste , Hydroflask, Keds, Ted Baker, Reebok, Gap, Champion, american tourister, Vans, Timberland, Olivia Burton, Ralph Lauren, Kanken and so much more are going to be available on ZALORA Singapore this Black Friday Singapore and Cyber Monday Singapore.
Shop Black Friday Online at ZALORA Singapore this November
With insane deals on the basic apparel ,trendy sports apparel, accessories and beauty items, this is your chance to change your entire wardrobe and pamper yourself for doing such a good job thus far this year! At such amazing price markdowns on hundreds of brands, it's time to seize the chance to unleash that stylist in you and take advantage of these amazing Black Friday discounts to give your wardrobe a seasonal update just in time for Christmas celebrations and the festivities! Capitalize on the amazing deals and shop for Christmas gifts in advance! With all these cheap fashion deals, it's so much more affordable to look on point and like a million bucks at a fraction of the original price! So camp out at your computer and mobile phones to shop anytime, anywhere, on the go for your newest and coolest styles yet!Shop now and dont forget our monthly sales too starting from 3.3 sales , 10.10 sale and also the biggest 12.12 sales !
DISCOVER THE BEST SELLING CATEGORIES
Curious about the hottest categories during the ZALORA Black Friday?
For Women See here : Dresses For Women | Tops For Women | Blouses | Cardigans For Women | Pants For Women | Jeans For Women | Skirts For Women | Slings Bags For Women | Shoulder Bags | Totes | Purses | Heels For Women | Sandals For Women | Watches For Women | Jewellery | Sports Bra | Sports Performance Tops For Women | Sports Performance Shoes For Women | Backpacks For Women | T-Shirt For Women | Shirts | Bikini | Blazer | Bra | Hoodie | Sneakers | Boots | Loafers | Cap | Sports Cap
For Men See here : T-Shirt For Men | Polo For Men | Shirts | Jackets | Pants For Men | Jeans For Men | Men Shorts | Briefs For Men | Sneakers For Men | Slip Ons | Wallets For Men | Backpacks For Men | Duffel Bagsfor Men | Travel Bags | Caps For Men | Hats | Sportswear For Men | Sports Performance Tops For Men | Sports Performance Shoes For Men | Blazer For Men | Boots For Men | Sports Cap For Men | Watches
UNMISSABLE DISCOUNTS AWAIT FOR TOP BRANDS
Enjoy discounts on these top brands! Why pay extra when you can save big?
See here: Nike | Adidas | Puma | Under Armour | Mango| Trendyol | Coach | Tommy Hilfiger | Calvin Klein |COS | H&M | NEXT| Superdry | Aldo| Michael Kors | Guess | Longchamp | & Other Stories | 2XU | Boss | Cotton On | CROCS | LC Waikiki | London Rag | MAJE | Monki | New Balance | OLD NAVY | Paula's Choice | The Ordinary | Timberland | Twenty Eight Shoes | Lubna | Lubna Homme | Zalia | ZALIA Home| Epitex | NAELOFAR | SITI KHADIJAH |Cotton On Kids | Mango KIDS | JBL Longchamp | Gap | Gap Kids | Dr. Martens | Gucci | OLD NAVY | Abercrombie & Fitch | Abercrombie & Fitch Kids | Fossil | Kate Spade | Guess Kids | Burberry| ZALIA Basics| Braun Buffel | Tory Burch | Marc Jacobs | MAJE | Vans | CROCS | Hollister | ZALORA | Milliot & Co. | Cotton On Body | American Tourister | Fred Perry | Defacto | Guess Watches | Vero Moda | ck Calvin Klein | Samsonite | LUBNA Kids | Banana Republic | Urban Revivo | Melissa | Maverick & Co | Aesop| Balenciaga | Benjamin Barker | Bottega Veneta | Casio watch | Clarks | Diesel | Dior | Fendi | Ferragamo | Furla| Hooga| Samsung | Apple | Billabong | Amar Amran | Rip Curl | MJ Jewellery | TED BAKER | Tussah | MCM | Coccinelle | Jack & Jones | Sperry
Dress to Impress with These Best-Selling Items From Top Brands
Shop now to get the latest styles from your favourite brands!
For Women See here : Telekung Siti Khadijah | Aldo shoes for women | Celine bag |Chanel bag | Coach wallet women
For Men See here : Gucci bag | Guess Watches | Aldo shoes for men | Coach wallet men