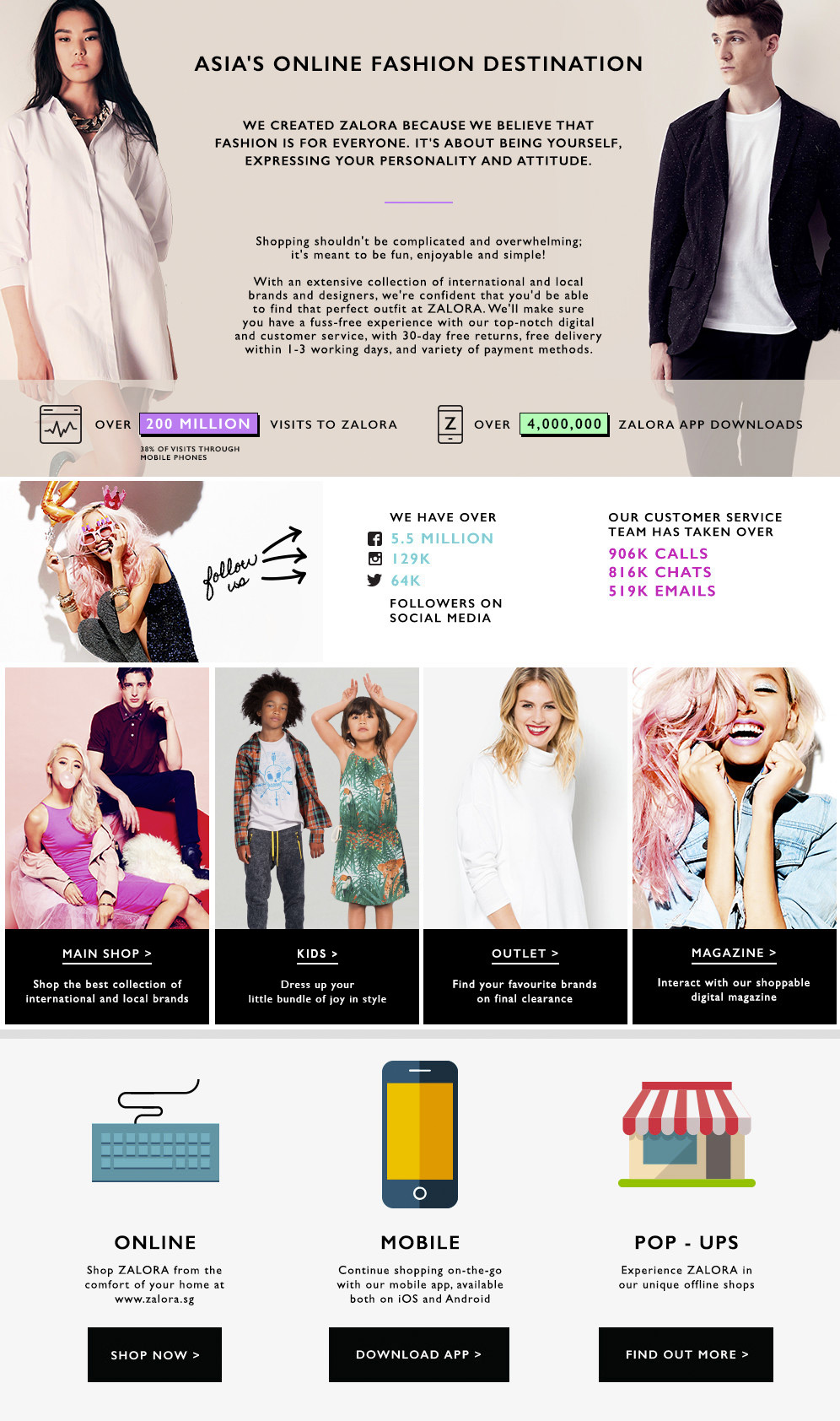 About Zalora
ZALORA Singapore was founded in 2012. Today we are the fastest growing online fashion retailer in Asia. Localised sites ensures that fashion is tailored to the tastes of the different countries and adapted to their preferences. With a good mix of over 500 international and local labels to choose from, fashion has taken on a different dimension from before. We now offer the usual such as womenswear and menswear. You can also expect footwear and accessories to match, gear for your tech products, beauty essentials, sporting equipment and more! This is why we are the destination for online fashion for the region. In a few years, we have revolutionised the fashion scene in Asia -from your shopping habits to shaping your individual style. With over 30,000 products online and hundreds of new products line being added every week, we are ambitious and constantly evolving. good news is that this gives you ample choice and ways to stay ahead of the trend curve. We are the purveyors of fashion while embracing technology, which gives you an unrivaled online shopping experience. Why shop anywhere else when ZALORA is your one-stop online fashion shop that caters to your needs and supplies your addiction to fashion. Thanks to the incredible success in the Southeast Asian region, our expansion efforts have allowed us to venture further into Taiwan. Connect with us on Facebook, follow us on Twitter or simply keep up with us on Instagram to get yourself caught up on the latest finds, hottest looks and best trends.
ZALORA Group and Global Fashion Group
ZALORA is a part of the Global Fashion Group; the world's leading fashion group. It was created in 2011 and is dedicated to making online fashion companies active in emerging markets. As of today, Global Fashion Group operates in 27 countries. They have a presence in India, Middle East, South America and Russia. Through ZALORA, the Global Fashion Group is able to access the market in Southeast Asia while we legitimise ourselves as the voice of fashion in the region.