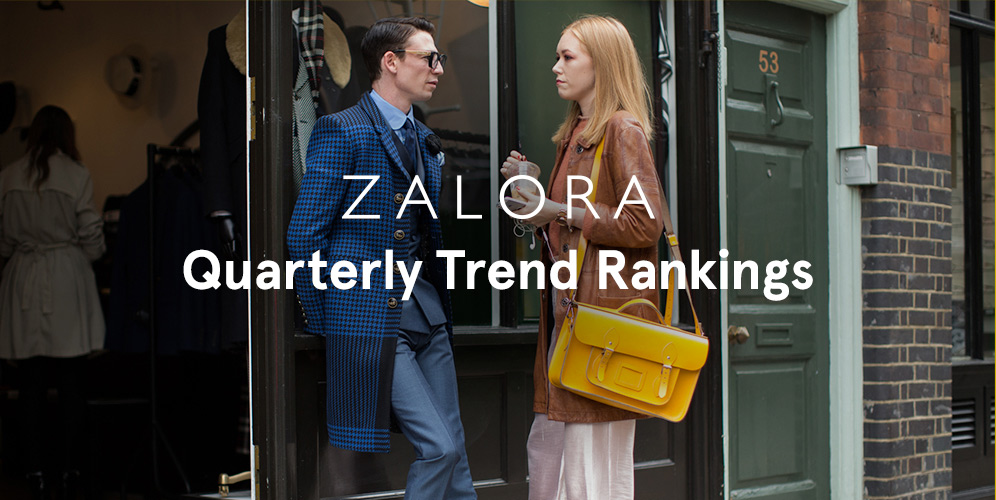 Style may be forever while trends come and go, but with great trends come great style. From runway to street, catalogues to blogs, the myriad of OOTDs offer us endless inspiration for our wardrobes. Which items dominated the charts this quarter? Check out the bestsellers for each quarter with our up-to-date rankings. We dive into our figures to reflect your fashion and beauty favourites. With this handy guide, you won't ever have to miss out on what's trending now.
2017 Quarter 03

After seasons of athleisure, fall/winter 2017 saw a resurgence of ladylike dresses that combine form and function into highly versatile pieces fit for day and evening. Find out if your favourites made the list!
Belted Midi Dress
Tee Dress
Cold Shoulder Ruffle Top
Shirt Dress
Neck Tie Blouse
READ MORE ON THREAD >
2017 Quarter 02

This summer, women's wear took a daintier turn as more ladies reached for dresses - from peplumed to flared - as their warm weather staples.
Peplum Dress
V-Neck Cutout Top
Wrapped Dress
Dipped Hem Dress
Textured Fit And Flare Dress
READ MORE ON THREAD >
2017 Quarter 01

Fashion
Dresses reign the charts this season, as all things feminine come back into vogue! The athleisure trend is showing no signs of stopping, so add a casual twist to your look with sneakers that bring your outfit from ladylike to downtown-cool.
Printed Shift Dress
High Collar Lace Sheath Dress
Scalloped Hem Dress
Colour-Block Scoop Hem Shift Dress
Lace Up Sneakers
READ MORE ON THREAD >
Beauty
With the no-makeup look going strong, ingredients for glowing, blemish-free skin remain at the top of your list of beauty must-haves. From products like spot patches to exfoliation peels, to face masks, you have not been skimping on your skincare basics. Upgrade your beauty routine with these bestsellers:
Tea Tree Secret Spot Patch
MY DAILY DOSE Get Glowin' Set
ZALORA Exclusive Optimizer Voyage Tri-light + Mask Cocktail + Pure Revival Peel 60ml
Huile Prodigieuse Multi-Usage Dry Oil
F42 Strobing Fan Brush
Glow On Set
Multi Cleanser_EX 180ml
READ MORE ON THREAD >
2017 Quarter 03

Athleisure is the officially name of the fashion game, as it continues to influence menswear this season. Find out which of your favourites made the bestsellers list!
Cross Court Sneakers
Denim Bermuda Shorts
Loafer Sneakers
Skinny Jeans
Men's Nike Roshe One Shoes
READ MORE ON THREAD >
2017 Quarter 02

Menswear this summer went back to the comfiest, most versatile basics. Here's how the gents beat the heat in style!
Faux Leather High Top Sneakers
Chino Shorts
Faux Leather Sandals
Faux Leather Driving Moccasins
Short Sleeve Shirt
READ MORE ON THREAD >
2017 Quarter 01

Fashion
Menswear this season goes classy, with dress shoes, Oxford shirts, and chinos taking centrestage. From the streets of Europe to the runways, the clean-cut, well-pressed look reigns supreme.
2-Eye Classic Boat Shoes
Slim Fit Chinos Pants
Dress Shoes
Short Sleeve Oxford Shirts
Skinny Jeans
READ MORE ON THREAD >