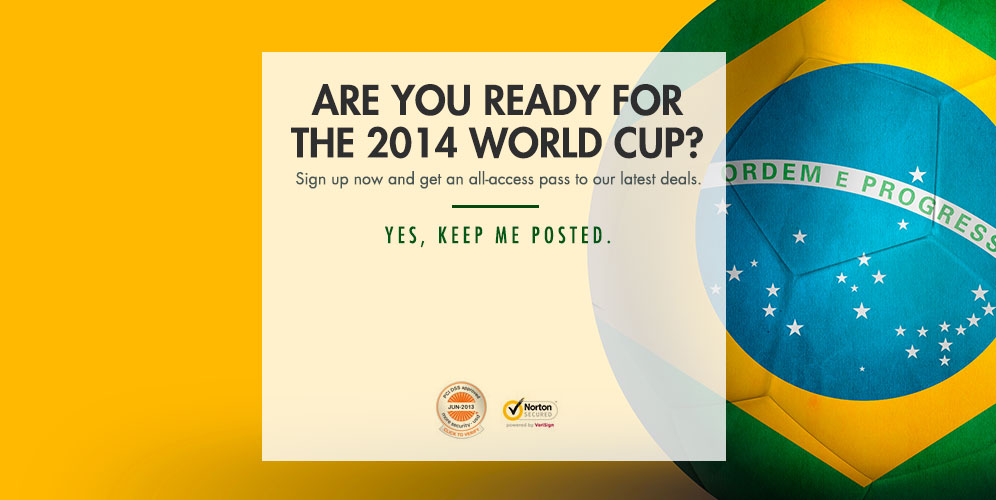 WORLD CUP 2014
In the blink of an eye, 4 years had passed and the World Cup is back. This year, the highly anticipated event will be held in Brazil, where countries will embark on a journey to win the much-coveted title as the Champion of World Cup Brazil. In the spirit of this sacred occasion (at least to the soccer fans), ZALORA has good news for all World Cup fans! ZALORA will be launching world cup apparels featuring popular countries like Spain, Germany, Brazil, England, Italy and many more! Stay updated of the latest deals by subscribing to the email notifications. You wouldn't want to miss the chance to get your hands on these fantastic World Cup memorials!
WORLD CUP BRAZIL – SPORTS MEET FASHION
Enhance your World Cup experience by donning on the shirt of your favourite country as you support the team at World Cup 2014. Parade in World Cup T-Shirts and World Cup Polos in this soccer season and bask in the exhilarating atmosphere. Keep a memorial of the largest soccer event of the year by purchasing one of these exquisite apparels.
Show off your support for your favourite soccer team when you throw on one of these World Cup T-shirts that embodies that the national colours of the team. Cheer and celebrate every goal with pride and joy with these World Cup apparels.
SHOP ONLINE FOR WORLD CUP CLOTHING
Hesitate no more and purchase your very own World Cup souvenir today! You know what they say, fastest fingers first! Get them all at ZALORA Singapore.