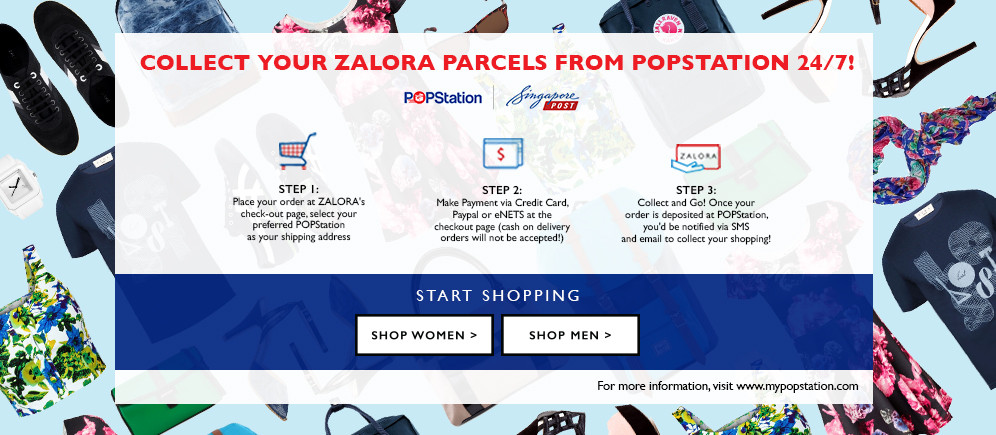 ZALORA Fashion Delivery
A Ffan of online shopping? Love having your shopping haul delivered to your door? But hard to schedule a delivery timing with the courier?
ZALORA Singapore has all the answers to your fashion dilemma! ZALORA Singapore is now shipping to POPStation. An awesome alternative to getting home deliveries – but with no time pressures and no hassle!
POPStation Singapore
POPStation Singapore is providing the ultimate alternative to receiving your packages. Pick Own Parcel Station or POPStation is especially good news to many who can't be at home to receive and sign for their delivery packages.
With ZALORA Singapore now shipping to POPStation, you never have to worry about missing any fashion deliveries or pulling your hair out to set a delivery appointment. So shop online and have your haul delivered to a POPStation for self-collection24/7 at your own convenience.
No worries on the size of the package as various locker sizes are offered. Hassle free and extremely convenient, there are many lockers strewn across the island. So there's bound for at least one to be near you. On top of all these, you can also return your packages to these stations. It's as simple as that! So shop away with no worry post today!
Shop and Win with ZALORA at POPStation
Shop and get a chance to win up to $100! Opt for local courier service Singapore - Singpost's POPStation to as courier choice. Receive your parcels are your convenience and stand to win attractive prices, how awesome can it get!