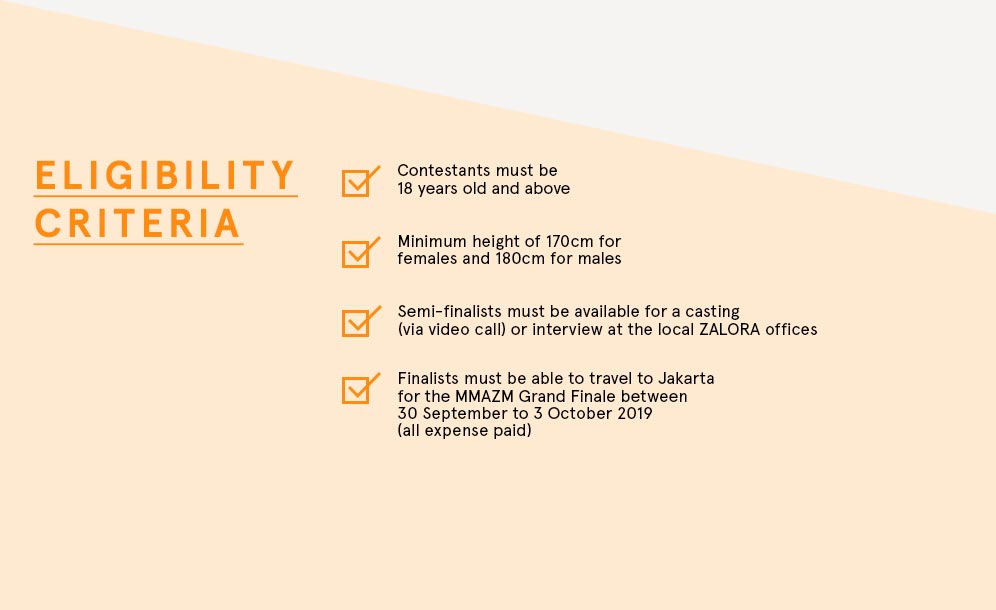 ASPIRING MODELS, NOW'S THE TIME TO SHINE!
This is your chance to be a top model! Yes, it isn't just about binge-watching Asia's Next Top Model anymore. Participate in ZALORA's first ever regional competition - Make Me A ZALORA Model (MMAZM)! We are on the lookout for the freshest face in the region, and if you've got your catwalk down, have some killer poses up your sleeve, and dress to impress the Gods, we want you to be our ZALORA Model! Make Me A ZALORA Model is back for the fourth year! This truly is a golden opportunity for sprouting models, both men and women alike, to make their entrance into the world of fashion and modelling.
DO YOU HAVE WHAT IT TAKES?
Post your most VOGUE-esque pictures on social media where we'll be scouring for fresh faces between August 2-30 2019! Here's the best way to kickstart your modelling career with us! Submit your coolest selfies (unedited of course — you are beautiful just the way you are) by using the hashtag #MMAZMCycle4 on Instagram. The winner will not only be featured in all of our campaigns but will also get access to fashion accessories and the trendiest apparel available on ZALORA for a whole year. In addition, the winner will be represented by Upfront Models in Singapore and receive a 3-month paid contract with ZALORA based in Kuala Lumpur, Malaysia.
MORE THAN JUST YOUR FASHION DESTINATION
ZALORA Singapore isn't just the leading online fashion shopping site in Singapore, but it is also committed to growing the industry through empowering talent, no matter who they are. And this is why MMAZM is the pefect avenue to jumpstart your career into the fashion and modelling industry! ZALORA Singapore wants to unleash the potential and talent in you, and joining the competition under the umbrella of Asia's choicest shopping destination and extremely talented coaches, you are bound to make waves!