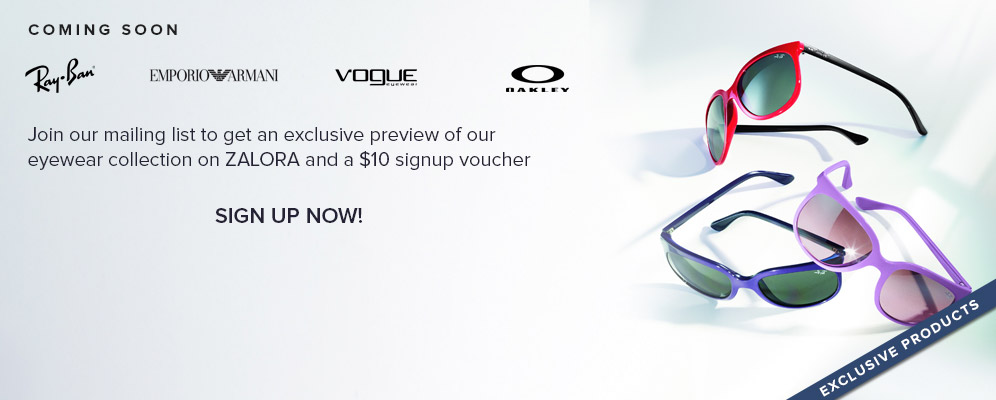 Ray Ban Singapore
Ray Ban Sunglasses Singapore
There is nothing quite as timeless as a pair of vintage-style sunglasses. With almost eighty years as a maker of stylish and functional eyewear, Ray Ban has remained a trailblazer at the helm of the industry with its constant innovation and research.
Ray Ban sunglasses were first created in 1937 by Bausch & Lomb who took out the patent in which the Aviator was made available to the public. Also known then as the Anti-Glare, it had a frame weighing 150gm and was made of a gold plated metal with green lenses made of mineral glass to filter out infrared and ultraviolet rays. The Pilots in the United States Army Air Corps immediately adopted the sunglasses as they would protect the soldiers' eyes from harmful light.
Ray Ban Aviator, Ray Ban Wayfarer & Ray Ban Clubmaster at ZALORA
The Ray Ban Aviator became well known when General Douglas MacArthur landed on a beach in the Philippines in World War ll and photographers snapped several pictures of him wearing them. Since then, they were quickly seen outside the army. Aviator sunglasses surged in popularity in the 60s, as pop culture icons like Paul McCartney and Ringo Starr from the Beatles, and Freddie Mercury sported them. They remained the epitome of style and swag, as they were featured on likes of Tom Cruise and Val Kilmer in the film Top Gun, and Sylvester Stallone in Cobra.
In 1956, the Ray Ban Wayfarer was created. Today, it is a well-established brand that has many legions of fans around the world. Making appearances in movies is a norm and as it is worn by many celebrities, it was quickly seen as an ultra-cool accessory to sport while maintaining protection for the eyes. It enjoyed early popularity from the 50s to the 60s, and aside from the Ray Ban Aviators have been described as the best-selling type of sunglasses in history.
Later in the 80s, another iconic pair of sunglasses was born: the Ray Bans Clubmaster with their 50s-inspired tortoiseshell brow-line frame. The brand now gives this classic design a modern twist with coloured lenses and printed arms.
Ray Ban Sunglasses
Ray Ban Singapore has become a classic brand that is well-trusted for its enduring quality and style, and ZALORA Singapore stocks a wide range of their designs in different colours, frames and lenses to suit the facial shape of its customers. Shop now and get a pair of sunglasses that is both highly sought after in the looks and protection department. Never again will your eyes suffer from the harsh glares of the sun with a pair of this durable and fashionable sunglass. Get a pair of these chic sunglasses delivered to you right to your doorstep within 48 hours to any place in Singapore with any purchase. Call our toll free hotline if you have any questions about our products and services and our friendly customer service officers will answer them! Shop Ray Ban in Singapore at ZALORA.sg and enjoy a great online shopping experience.
Don't wait for the Ray Ban sale. Buy your Ray Ban sunglasses online today! Shop for them at the most reasonable price here at ZALORA Singapore. Free shipping is available, as well as cash-on-delivery payment and a 30-day return policy.