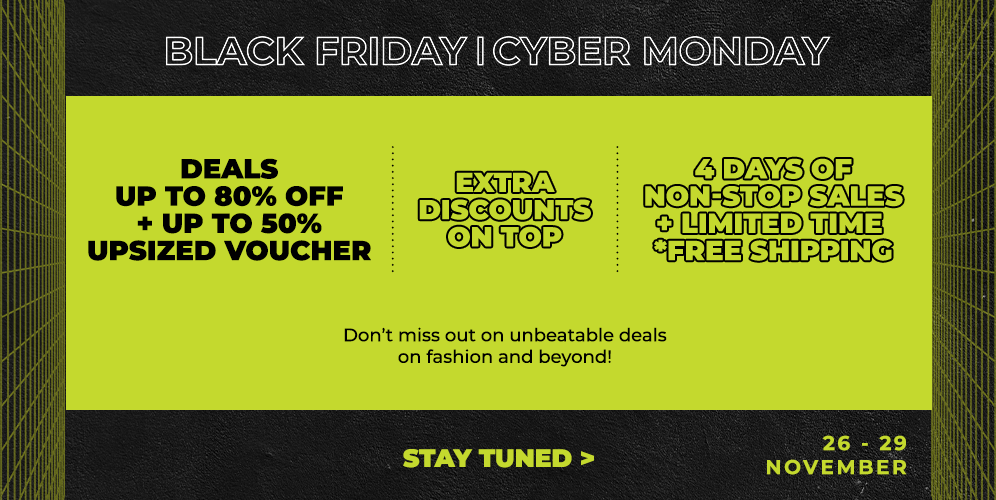 Cyber Monday Singapore 2021 Sale
What do you think is the origin of Cyber Monday? When was Cyber Monday introduced in Singapore? Well, In 2005, the National Retail Federation noticed shopping trends extended beyond Black Friday weekend to Monday of the following week. With the rise of online retailers and the increasing number of people shopping on their mobiles and on the go, Cyber Monday was born, and this is the same for the Singaporean audience. Online shopping now offers you more bundled deals and great discounts, deals, promotions and sales with the increasing number of online shopping events held every year! And ZALORA Singapore is offering our loyal supporters the ultimate discounts of the year this Cyber Monday 2020 on November 30th with cheap fashion deals off the hottest style essentials and skincare available on our online platform! What's more, as Black Friday was traditionally for consumer electronics and Cyber Monday for fashion and accessories, the roles have now become less obvious. You can buy anything you want at any time. That means you don't have to wait for Cyber Monday 2020 to buy your favourite accessories, clothes, shoes, bags and even beauty products, likewise for Black Friday, if you miss out on the deals then, you can always shop for your electronics like cameras, audio devices, smart phones, and household appliances on Cyber Monday 2020. Log on to check out the crazy deals waiting for you today on ZALORA Singapore.
Cyber Monday 2020 Online Shopping - Fashion, Lifestyle, Luxury, Beauty
Check out 2020's Cyber Monday deals and get ready to welcome the start of a brand new year in the latest and hottest trends of the season! ZALORA Singapore always works to curate amazing fashion essentials like casual sneakers, classic bags, and basic streetwear to help you create your dream closet, and now is your chance to check those coveted items off your wish list with the crazy Cyber Monday offers and that are coming up this November 30th 2020! Get those chic accessories, cute dresses and sports apparel all at amazing prices and rock those that look like a true fashionista that knows how to make the best of a fashion discount! Love a unique edge to your urban and contemporary outfits? ZALORA Singapore also has a curation of some of the hottest indie brands that bring you one of a kind fashion apparel that will truly make a statement! Get in the Christmas spirit and feel the tingles as you gift your friends and family with the most popular skincare and beauty products, and feel doubly great that you got them at a steal! This is the best opportunity to shop some items as it may be the last chance before they are all gone! Shop for them now! This is the best time to be shopping for your Christmas presents and wish-listed items at a discounted price. In addition to having all different types of kitchen appliances, electronics, home decor, lifestyle goods and food & beverage items for you to grab, you can grab all your closet essentials too! These can make the perfect Christmas present for your friends and family.
Shop Cyber Monday Online Sale at ZALORA Singapore this 2020
If your fashion closet is in need of a seasonal wardrobe update, then now is the time to be keeping your eyes open and looking out for the best deals online. Check out this year's crazy Cyber Monday discounts and stock up on your favorite makeup and skincare products at a fraction of their original cost! Enjoy great online shopping discounts and a comfortable and convenient shopping experience from the comfort of your home with the exclusive deals and offers you can find on this day at ZALORA! Get those cute peep toe heels and party dresses and be ready to rock another year end party in sophisticated style! Don't miss out on this massive online shopping event of the year! When it comes down to it, shopping is not always the easiest thing to do, especially during the holiday season! ZALORA Singapore makes it easy and affordable for you, it's also worthwhile because this year, not only do you get to enjoy amazing discounts, promotions, deals and bargain, you will also get to enjoy the benefits of the cashback feature that will allow you to earn some of your hard earned money back as you shop on for your favourite items. Don't hesitate to browse the totality of our huge catalogue too, because this year ZALORA Singapore has got the inclusion of some pretty new and interesting things like premium food, and drink, snacks, workout equipment, kitchen tools, home furnishing, gardening essentials and even some rad pet supplies up for grabs. It's fun for the whole family this 2020 for our Cyber Monday sales in Singapore. Get your hands on items from top brands like Guess, Birkenstock, Fila, Kate Spade, Dr Martens, Samsonite, Nike, Sixty Eight(6ixty8ight), Havaianas, Patagonia, The North Face, Topshop, Cath Kidston, Dorothy Perkins, G2000, Tommy Hilfiger, Lacoste, Hydroflask, Keds, Ted Baker, Reebok, Gap, Champion, American Tourister, Vans, Timberland, Olivia Burton, Ralph Lauren, Kanken and so much more Cyber Monday 2020 on ZALORA Singapore if you miss out on Black Friday shopping this year.This virtual event is not to be missed, mark your calendars now!
All Your Cyber Monday Questions Answered for this November 30th 2020
Now, you may still have some questions about Cyber Monday and what is in store for you during this shopping season, and there are definitely things that can be missed out, especially when so many online retailers, e-commerce brands and online or offline shops are carrying out so many sales during this period. So, to help you recap on all the information you need, make sure to mark down 30th November 2020 for the Cyber Monday sale on ZALORA Singapore. It is the Monday right after Black Friday, and it goes on for a good 24 hours. If you're wondering where to shop for Cyber Monday - your answer is ZALORA Singapore. If you are still wondering if ZALORA is offering the best deals, just remember that if you're asking yourself where to get the best cashback for Cyber Monday - the answer is also ZALORA Singapore! So, now that you know the answer to "what is Cyber Monday", "when is Cyber Monday", "Where to shop on Cyber Monday", "Why Cyber Monday exists", and so on, you really need to mark your calendars right now to make sure you don't miss out on this amazing sale!