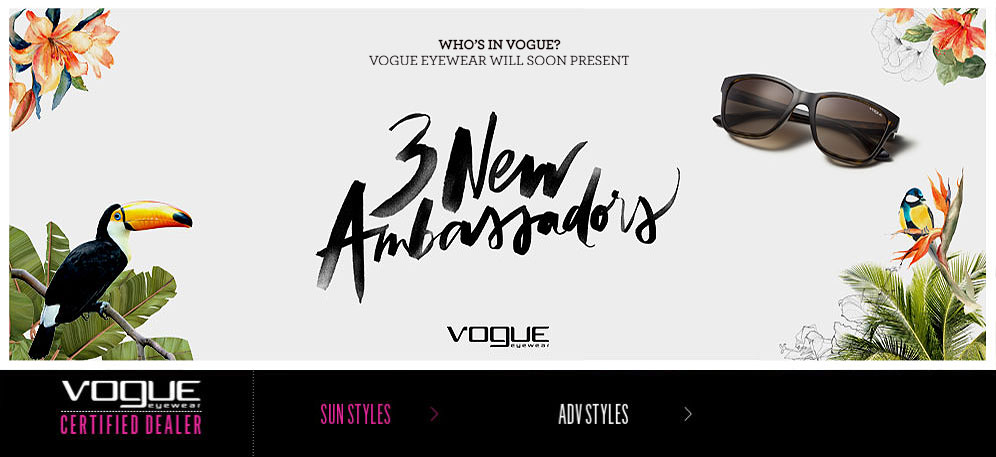 Click here to verify the authenticity
In Vogue Injected Sunglasses
$180.00
Casual Chic Injected Sunglasses
$210.00
In Vogue Acetate Sunglasses
$220.00
Casual Chic Injected Sunglasses
$180.00
Casual Chic Injected Sunglasses
$180.00
In Vogue Metal Sunglasses
$190.00
Women's Vogue Sunglasses Singapore
Founded in 1973, Vogue Eyewear is a brand that stands out for its exquisite details, variety of colours and frames. Turning everyday glasses into a hot fashion accessory, something that can totally complete your outfit. The brand offers the latest designs and styles straight off the runways and fashion magazines, what better way to complete your outfit with their chic designs in their collections? Not only are they known for their sophisticated designs, the products are made of premium products which makes their sunglasses more long-lasting and durable. It will totally be worth every penny spent! Designs suit every face, style and taste. Celebrities like Eva Mendes fronted this season's women's collection.
Women's Vogue Sunglasses Online Store
Unlike most accessories, buying a pair of sunglasses requires more effort. They are used for fashion purposes but most importantly, they also protects your eyes from those harmful sun rays. Therefore, choosing a brand that produces quality sunglasses is important. Here at ZALORA, we offer the best products with the best prices, from women's accessories to men's shoes. Look forward to an extensive variety of brands and products and a great shopping experience with us! Keep up with the latest eyewear trends with the brand's sunglasses as they are one of the leading eyewear brands around. So start choosing your favourite designs now!
Shop Women's Vogue Sunglasses Online at ZALORA Singapore
Shop away online at ZALORA SINGAPORE now! You can choose from the different payment methods offered like secure online transaction to cash-on-delivery. Our 30-day free returns policy also ensures maximum satisfaction with your purchase. So what are you waiting for? Shop at ZALORA today!