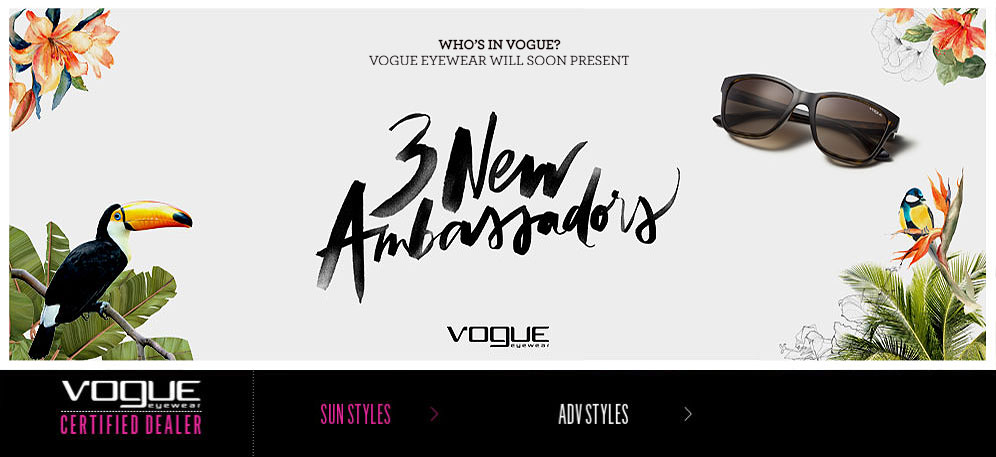 Click here to verify the authenticity
In Vogue Injected Sunglasses
$180.00
Casual Chic Injected Sunglasses
$210.00
In Vogue Acetate Sunglasses
$220.00
Casual Chic Injected Sunglasses
$180.00
Casual Chic Injected Sunglasses
$180.00
In Vogue Metal Sunglasses
$190.00
Vogue Singapore
When it comes to fashion accessories, a pair of sunglasses is arguably one of the most versatile piece of accessory there is. They can help you look stylish and chic instantly and with Vogue eyewear, you will look even better.
Founded back in 1973 in Italy and named after the world famous fashion magazine, Vogue, they are made especially for women everywhere to stand out and create their own fashion statement. With its elegant style and unique details, women everywhere would flock to get their hands on them boasting the popularity of the brand. At Vogue, they turn plain old boring sunglasses into a trendy piece of accessory for every women fashion needs.
Vogue Sun Styles
Vogue has quite an extensive collection of women sunglasses in various different designs and styles. They have sunglasses that are semi-rimless to those that included floral patterns on the interior of the frames and even those that have intricate embossed detailed at the sides of the frames.
You can pair any one of the Vogue eyewear with any kind outfit from a simple t-shirt and jeans for a day out with your friends around town to a pretty sundress or even an eye catching swimsuit for a relaxing day under the sun poolside or at the beach.
Shop Vogue Sunglasses Online
Shop Vogue Sun Styles online at ZALORA Singapore and accessorize all your outfits instantly. Spend over $40 and have them delivered to you for free and with payment methods like cash-on-delivery with a 30-day return option, shopping online is now fuss free. So shop with us today!