The ZALORA Partner Program
Commission & Payment– Your attractive financial reward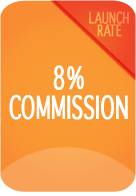 Your benefits as a Publisher:
8% commission per sale!
(7% default commission)
Tiered commission structure to reward top sellers
Cookie lifetime: 30 Days
Support and advice from the ZALORA Partner Program
Sale validation 45 days after receipt of order
How much money can I earn?
Earn money easily. For each transaction that runs through your website, you will be paid a sales commission. Profit from an 8% Special launch commission per sale (default 7%). Sales will be processed within 45 days after receipt of the order.
How does the payment take place?
After 45 days Zalora verifies the orders and confirms, amends or declines the transactions. An amended transaction allows for partial refunds to ensure that the publisher is still rewarded. After processing, the payout is carried out by Commission Junction directly to the Publisher.
Example partial refund calculation:
The customer has a shopping cart with the amount of SGD 150. However he decides to sent back good worth $ 30. From the remaining amount of SGD 120 the publisher you will receive an 8% commission of SGD 9.60.