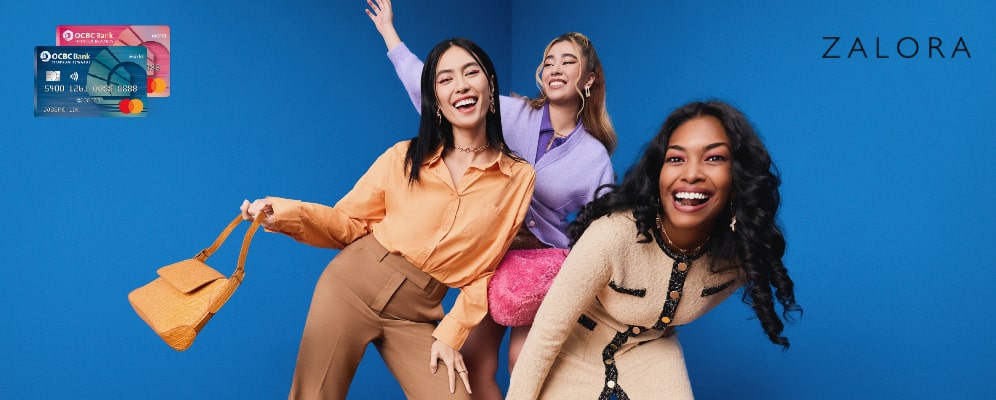 OCBC TITANIUM REWARDS x ZALORA

Shop 10% Off Min Spend $80
When you checkout with OCBC Titanium Rewards Card

Use code: OCBCTITANIUM


EXCLUSIVE OFFER:
New Titanium Rewards Cardholders get up to $80 ZALORA Giftcard
SIGN UP HERE
Valid 1 - 30 April Only. Capped at 3x per user. T&Cs Apply.
New to OCBC Sign Ups get $80 ZALORA GiftCard
Existing OCBC Sign Ups get $40 ZALORA GiftCard

The following terms and conditions apply:
1. This is a collaboration campaign with OCBC.
2. Only one Platform Voucher may be used at a time.
3. The Promo Code may be used on
ZALORA's App, ZALORA's Website
on Mobile Web and Desktop, and must be entered upon checkout to be effective.
4. The Promo Code does not apply to items sold by sellers as set out at
www.zalora.sg/faq-sellers/ .
5. The Promo Code does not apply to certain excluded brands as set out at
www.zalora.sg/faq-non-sale/ .
6. The Terms of Service set out at
www.zalora.sg/terms-of-service/
shall apply to all uses of the Promo Code.
7. ZALORA reserves the right to amend these terms and conditions or to cancel the Promo Code at any time.
As Asia's Online Fashion Destination, we create endless style possibilities through an ever-expanding range of products form the most coveted international and local brands, putting you at the centre of it all.
With ZALORA, You Own Now.
New to Zalora?
Get a
S$ 20 VOUCHER
(plus the latest fashion news and product launches) just by subscribing to our newsletter.
Any question? Let us help you.
© 2012-2023 Zalora