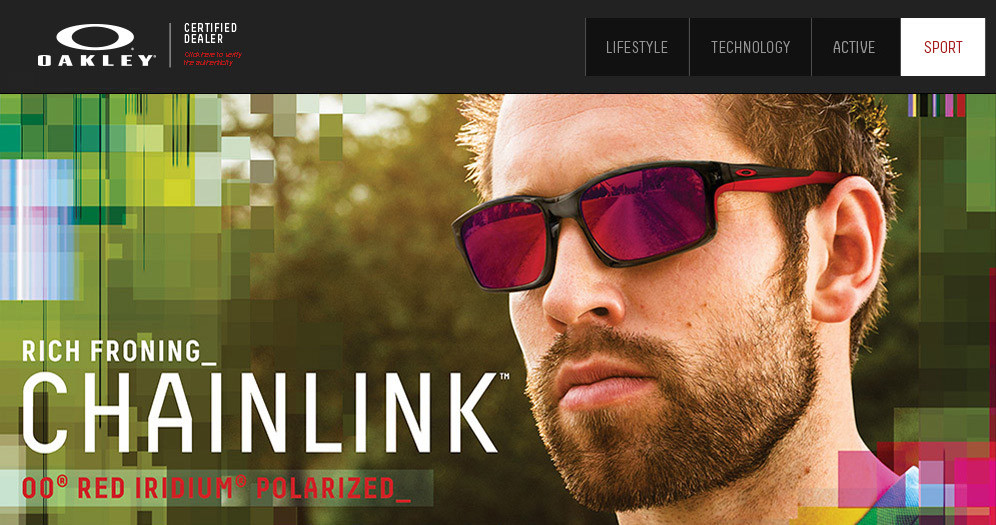 SHOP THE COLLECTION
Whisker Polarized
Sunglasses
$470.00
Square Wire Polarized
Sunglasses
$399.00
Quarter Jacket
Sunglasses
$189.00
Square Wire
Sunglasses
$319.00
M2 Frame
Sunglasses
$299.00
M2 Frame
Sunglasses
$299.00
Quarter Jacket
Sunglasses
$360.00
Oakley Singapore
Established in America and founded in 1975, Oakley Incorporated is a sports and lifestyle brand that produce and distributes luxury eyewear with high performance, apparels, footwear, accessories and many more.
They have dedicated themselves in creating products that infuses both art and the science of physics together with a little imagination to give the best to all their consumers and help enhance their lives. Today Oakley does not only offer high performance eyewear, they are also a brand that allows one to fully express their unique self and make their own fashion statement.
Oakley Sports
Oakley sports sunglasses are created especially for those that often participate in sports activities. The sunglasses have a sportier look and are designed to be more durable so it wouldn't be easily damage as you are going about your sports activities. Their sports sunglasses are also slowly making a name for themselves in the world of sports with many famous athletes spotted wearing them out and about and even during their competitions boasting the quality and performance of Oakley's eyewear.
Shop Oakley Sports Sunglasses Online
There is no more need to go to an Oakley store when you can get Oakley sports sunglasses online now at ZALORA Singapore. Spend over $40 and get them delivered straight to you for free and with payment methods like cash on delivery, secure online transaction and a 30 day return option, shopping online has now become less of a hassle. So why not grab yourself a pair and shop with us today!