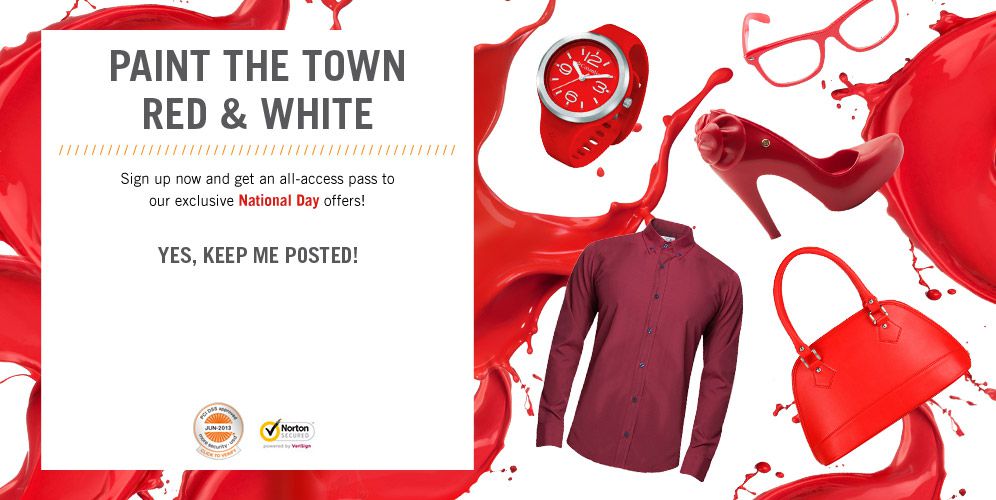 Singapore National Day 2013!
To celebrate the nation's forty-eighth birthday this year, what better way to demonstrate patriotic fervour by donning the national flag's colours, red and white?
On 9 August every year, Singapore commemorates her independence from Malaysia in 1965, and we go about that with a bang a la the National Day Parade, held at the The Float@Marina Bay, which seats 30,000 people.
The parade is packed with events including a speech by Prime Minister Lee Hsien Loong, the national flag fly-past, the 21-gun salute, cultural performances, as well as the highlight of the evening – a dazzling firework display to close off.
Wearing the National Colours
Sartorially, there are a myriad of ways to get into the Singapore spirit, from I ♥ Singapore t-shirts to red and white-themed fashion apparel. Red, the colour of the top half of the Singapore flag, represents universal brotherhood and equality of man. It is also an appropriately bright colour to pull on for the festivities.
Those who prefer a more subtle way of incorporating the colour may opt for varying shades of red, such as burgundy or vermillion. The white in the lower half of the flag represents pervading and everlasting purity and virtue. It provides a clean and crisp contrast as a neutral against the vibrant red.
If you were lucky enough to snag tickets to the parade, you can expect to behold a spectacular sight: thousands of Singaporeans appearing as a sea of red and white.
Even if you'll be celebrating National Day from afar, there is always reason to wear our nation's colours. So fly your flag high and select from the various offerings of red-and-white apparel from ZALORA.sg!