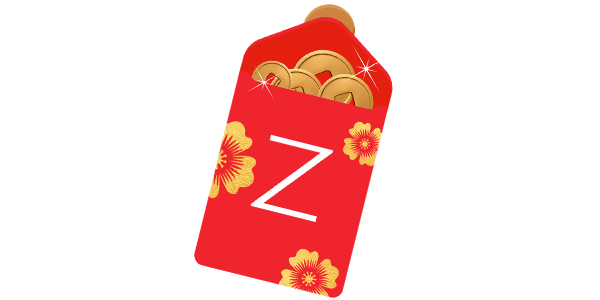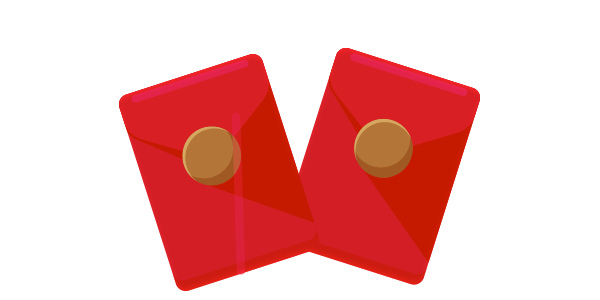 TERMS & CONDITIONS
How to Participate
Mechanics:
Step 1: Go to game landing page (entry point from Zalora main website or app)
Step 2: Click 'Play Now' Button
Step 3: Tap on Ang Pao icon
Step 4: Receive a Voucher Code
Step 5: Spend using the Voucher Code
1. To participate, customers must place order(s) during the Campaign Period ("Eligible Purchases") using any of the 4 main Voucher Codes (VC) which they will get upon playing the game. This promotion applies to products advertised as "sold by ZALORA" only.
2. Customers have multiple attempts to acquire all the VCs offered and increase their chances of becoming the top spenders by spending with all the VCs.
3. The Top 3 Spenders during the Campaign Period will be contacted via email on 1 March 2023.
4. All employees of ZALORA, their affiliates and partners including their relatives up to the 2nd degree of consanguinity or affinity are disqualified from joining this game.
Prizes
Tier 1 Prizes : Voucher Codes (VC)
Prizes
Usage

Tier 1: First Prize


25% Off sitewide (No min spend)
1 time usage

Tier 1: Second Prize


S$18 off min spend S$89
1 time usage

Tier 1: Third Prize


28% off on Top 10 brands
Min spend S$79
Unlimited usage

Tier 1: Forth Prize


S$8 off min spend S$160
Unlimited usage
1. VCs can only be used during the Campaign Period only.
2. First Prize and Second Prize VCs are limited to only 1 time usage per customer.
3. Third Prize and Fourth Prize VCs can be used multiple times.
4. Each VCs is applicable to selected items only.
5. The VCs can be won by everyone who participates.
Tier 2 Prizes : Gift Cards
| Rank | Prize | No. of Winner |
| --- | --- | --- |
| 1st Prize | S$288 | 1 |
| 2nd Prize | S$168 | 1 |
| 3rd Prize | S$88 | 1 |
6. Only the Top 3 Spender (using the Tier 1 VCs) during the Campaign Period is eligible to win the Gift Cards.
7. Gift Cards will be valid for 6 months from the date of winner announcement/confirmation.
8. All Gift Cards are non-refundable.
9. Products purchased using a Gift Card are not refundable in cash but only store credit. Other return policies apply.
10. Please refer to https://www.zalora.sg/terms-of-use/ for the terms and conditions governing the use of E-Gift Cards.
Winners Selection and Communication
1. Personal data will be collected, processed and stored for the purposes of the contest. refer to the ZALORA Privacy Policy for more information.
2. The Top 3 Spenders/Winners will be selected based on the highest amount of order during Campaign Period.
3. The winners will be selected by ZALORA.
4. The winners will be contacted via email. Gift Cards will be in a form of VC which will be included in the email as well.
5. Winners will be contacted on 1st March 2023.
Terms & Conditions:
1. ZALORA Fortune AngPao Game will start from 3 January 2023 at 5pm - 24 January 2023 at 11:59 pm ("Campaign Contest Period").
2. Only purchases made during the Campaign Contest Period will be considered for winner selection.
3. Orders which have been fully returned will not be considered for winner selection.
4. Each participant can only win one (1) prize throughout the Campaign Contest Period.
5. Participants must be 16 years old and above in order to participate and be eligible for the prize.
6. There is no restriction on the number of qualifying transactions each participant can make during the Giveaway Period. The cumulative value of all qualifying and valid transactions of a participant will be calculated after the return period to determine the total spend of that participant for this contest/campaign.
7. Winners of the contest also consent to cooperate and participate in any publicity activities that may be organized by ZALORA.
8. All information published and related to the contest (including text, graphics, symbols, icons, software, and trademark) are protected by copyright and trademark and remain the sole property of ZALORA.
9. ZALORA representatives will pick the winners for Tier 2 Gift Card Prizes from eligible entries based on the highest spend and announce the winners.
10. Winners will be announced on 1st March 2023.
11. A participant may only win one (1) time. ZALORA will contact each winner via the email linked to his/her ZALORA account and the winner must reply to the email with the required details within five (5) working days, failing which the prize will be forfeited and the winner shall not be entitled to any compensation for the same. In such a case, a new winner will be selected in accordance with this giveaways mechanism. The details provided in the email response shall be final and conclusive, and no amendments to such details thereafter shall be permitted.
12. The prize shall be given on an "as-is" basis. Prize is strictly non-refundable, non-transferable and cannot be exchangeable for cash, credit, in-kind and non-combinable with any other offers, promotions, or discount.
13. ZALORA reserves the right to change/temporarily discontinue the contest without prior notice.
14. ZALORA reserves the right to disqualify any participants who violate the rules and regulations of the contest.
15. ZALORA's decision on all matters relating to the contest will be final and binding. No discussions, appeals, enquiries, or challenges will be entertained.
16. ZALORA reserves the right to vary these terms and conditions without prior notice or withdraw/discontinue the contest at any time without notice or liability to any party.
17. In the event of any inconsistency between these terms and conditions and any marketing or promotional materials relating to the contest, these terms and conditions shall prevail.
18. Please refer to https://www.zalora.sg/terms-of-use/ for the terms and conditions governing the use of E-Gift Cards.