How to Earn BIG Points
Step 1
At checkout, select AirAsia BIG under "Partner Loyalty Programs"

Step 2
Enter your BIG Shot ID in the field provided

Step 3
Complete order

Step 4
Receive your BIG Points!

Spend More to Earn More!
- Earn 5 Big points for every S$ 5 spent on ZALORA


- Earn a bonus 100 BIG points when the total spend reaches or exceeds S$90.
The bonus points will only be awarded once per order.


- Customers will only earn points for what they spent on ZALORA, excluding discounts, taxes, shipping costs, cancellations, returns and exchanges. Furthermore, the amount spent will be rounded down to the nearest multiple of S$5 when calculating the amount of BIG points to award.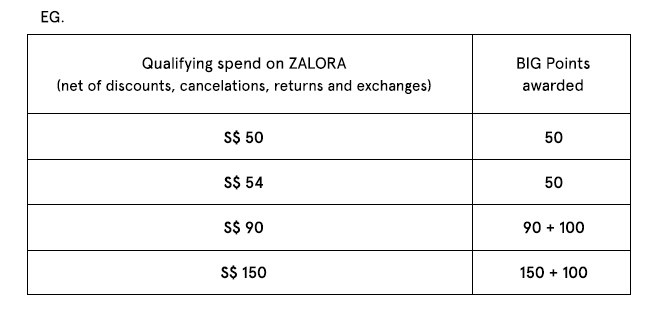 Terms and Conditions
1. To earn BIG points on their ZALORA purchases, customers must:


a. Be an existing AirAsia BIG member (having subscribed and registered for membership under the loyalty and rewards program operated by BIG under the name "BIG Loyalty Program") and have a unique registration number known as the "BIG Shot ID" at the point of purchase. The BIG Shot ID must also be submitted at point of purchase and subsequent changes/addition of the BIG Shot ID will not be entertained.
b. Make a purchase with ZALORA on the desktop/mobile web version of www.zalora.sg and enter their BIG Shot ID at checkout.
c. Make the purchase within the campaign period

2. The earn structure can be found at www.zalora.sg/aab.
3. Participants will only be able to earn BIG points from the value (excludes taxes and shipping costs) of their successful order (excludes invalid, canceled, returned and exchange items) ("qualifying spend").
4. The BIG Points award will be credited to the winner's BIG Shot account within fifty five (55) days (or any other period as ZALORA deems necessary) of the order date, subject to the ZALORA receiving all information deemed necessary.
5. ZALORA reserves the absolute right to substitute and/or replace the BIG Points award from time to time without any prior notice to the Participants.
6. ZALORA reserves the right in its sole discretion to disqualify any Participant and/or to forfeit the BIG Points award from any it believes has undertaken fraudulent practice and/or activities or other activities harmful to this Campaign or to the Organizers.
7. ZALORA reserves the absolute right to vary, delete or add to any of these terms and conditions (wholly or in part) from time to time without any prior notice to the Participants.
8. The full terms and conditions can be found at www.zalora.sg/aab.